I have been distracted by Little Wars Adelaide 2015 over the last few weeks preparing to manage a table for the day, I'll be running an American Civil War game covering the Battle of Olustee using Longstreet rules with over 3,000 6mm figures, I think it's time for me to add a couple of new pages to this blog covering my other periods of interest…anyway back on track here's a run through of the construction of the HMLS Dreadnought.
My first 28mm scale Steam Powered Landship worked out so well I decided I needed a second one so they could engage in majestic dreadnought style engagements!
This Landship is about 20cm long and has a beam of 6cm (ahoy there I had to throw in a nautical term!) similar to the first one but is more ship like as it's based on period pictures of 1870s battleships. The change from sloped stem and stern (ahoy again!) plates allows me a bigger deck space to 'play with'!
The first step was to turn seven bits of flat styrene into a boat shaped hull, the sides and bulkheads (ahoy!) are 1mm styrene and the curved plates are 0.5mm styrene. I glued the 4 outer skin parts together with a 5mm overlap on each joint creating a long strip and then

when these joints had dried I curved the whole strip around and glued it together while securing it in the correct shape with weights, it was easy than I thought it would be: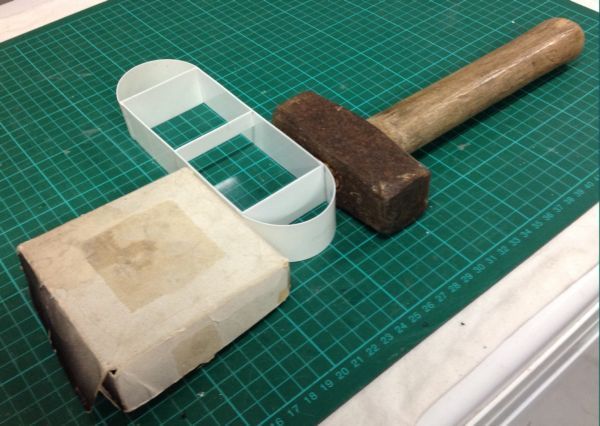 Then I added some deck and hull embellishments, the main turret holders and splash guards: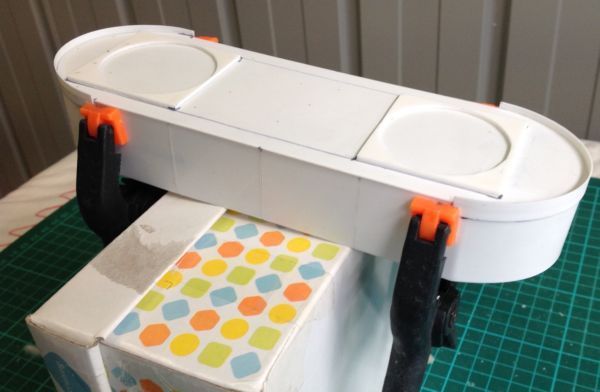 The main turrets were cut from 40mm PVC pipes and capped with 1mm styrene: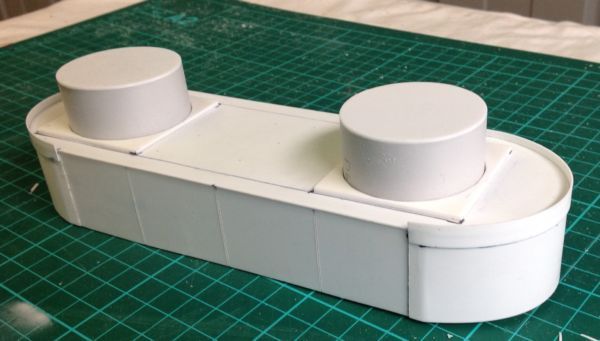 Wheel 'units' were then built for the Lego wagon wheels, you can see them here with the black axle stubs located on them: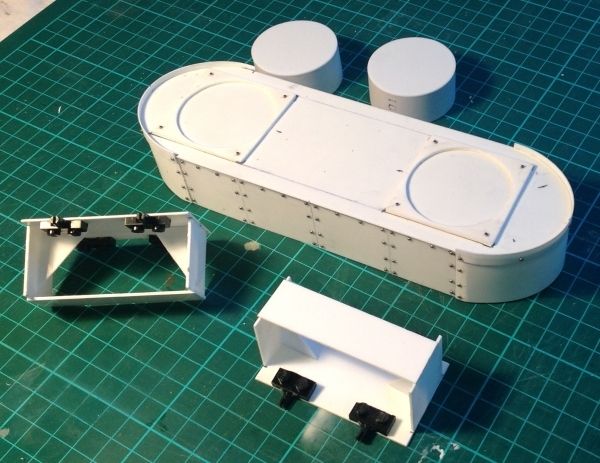 The next step was to add rivets to the hull and I used my good old sewing pin head technique, it takes longer to do than the other methods I have seen do but gives an excellent uniform look. Each hole is drilled then the trimmed sewing pins are super glued in place (from the back where possible so there's no glue residue on visible parts):
I included a 28mm askari Naval infantryman here for comarison...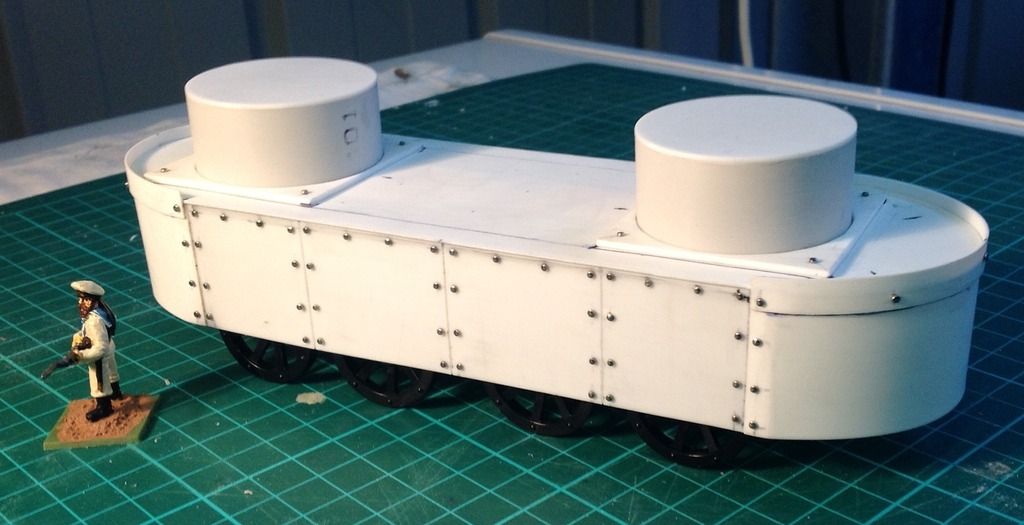 Secondary gun turrets where made from 25mm PVC pipes and they pivot on 20mm PVC pipe pieces. A lower superstructure to hold them in place and carry the conning tower was built from 1mm styrene. At this point details like the hatch, rear flagpole support, coal bunker, front tow point and lights were added: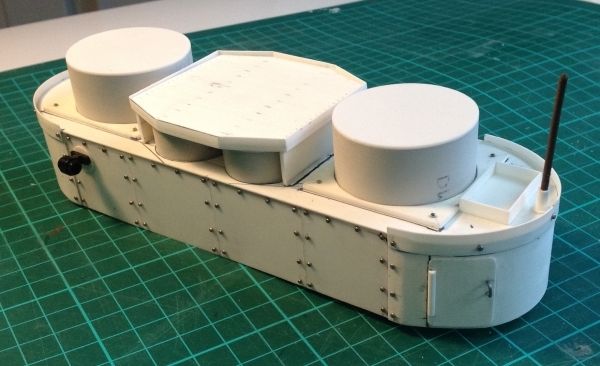 The cannons for the front secondary turrets are Perry ACW gun barrels and the MGs for the rear ones were made from plastic tubing, wire and sewing pins:
The last major part of construction was the conning tower with mast; this was made from 1mm styrene, PVC pipe, washers and sewing pins. The mast parts are made from a meat skewer. The funnel/smokestack was made at this point too:
The funnel/smokestack was fashioned from a Heineken 5 Litre mini keg pouring spout, much fun ensued emptying the keg to make this part available!
Here's the turrests, superstructure, conning tower and funnel resting on the hull…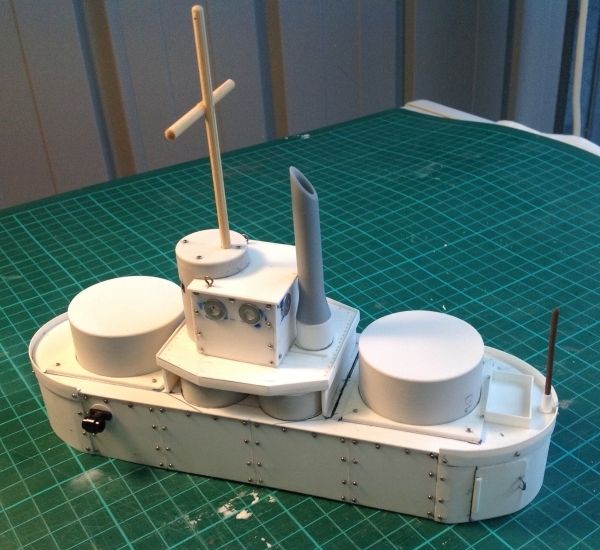 The Landship was undercoated with cheapie spray can primer then Humbrol Black Matt 33 and Grey Matt 27 were used to paint it. For the main armament I used the same cast 32 lbr barrels as were on the first Landship and these were painted brass as were the Perry cannon barrels, the home made MGs got a coat of Humbrol Gun Metal 53 and lastly the rivets on the wagon wheels were done in brass: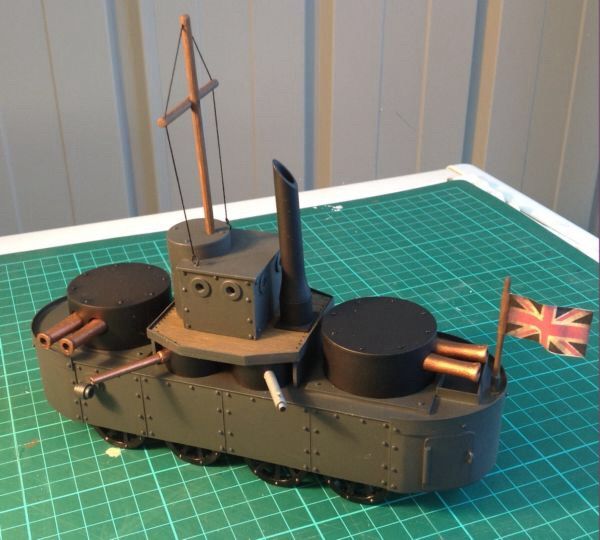 I really like the way this 'model' turned out and I'm not giving anything away saying a third Landship is on the way yes those pesky ex-colonials from the Americas are trying their hand at one!
As soon as Little Wars Adelaide 2015 is done and dusted I'll be posting up the Russians Are Coming Campaign Game 4 Set Up/Special Rules and AAR…